Pioneer installs, repairs and maintains various types of conveyor systems and other industrial equipment.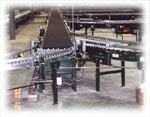 The type of equipment we install consists of: belt, roller, chain and slat conveyors; hydraulic and chain lifts; palletizers; vertical conveyor systems; and other miscellaneous equipment such as mezzanines, in-plant offices, dock seals and dock levelers.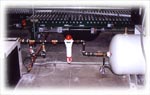 Our customers consist of equipment end users, material handling equipment manufacturers, distributors and sales representatives.
Listed below are some of the manufacturers of the equipment we have installed, relocated or modified in past years:
CONVEYORS:

| | | |
| --- | --- | --- |
| BILT-RITE | | RAPISTAN |
| BUSHMAN | | ROACH |
| ERMANCO | | TITAN |
| HYTROL | | UNEX |
| INTERLAKE | | METZGAR |
| MATTHEWS | | NERCON |
| INDUSTRIAL KINETICS | | PRIME |

DOCK LEVELERS (HYDRAULIC & MECHANICAL):

SERCO
RITE-HITE
KELLEY
PENTALIFT
MCGUIRE
PIONEER
LIFTS (HYDRAULIC & MECHANICAL):
SCHEDULED MAINTENANCE
AND SERVICES

MAIL SORTERES
In addition to conveyors, dock levelers, lifts and carousels Pioneer has also installed other equipment such as:
Palletizers
Overhead Cranes
Scissor Lifts (Tables)
Platforms & Mezzanines
Pallet Rack
Automated Storage Systems
Dock Seals & Bumpers
Shelving & Lockers
In-Plant Offices